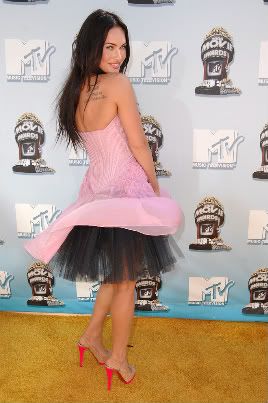 Looking lovely in a flowing pink gown, Megan Fox walked the gold carpet at the 2008 MTV Movie Awards at the Gibson Amphitheatre in Universal City, California on Sunday (June 1).
The Transformers babe is continuing what has been a busy weekend – as this is her second awards show in the past three days.
As previously reported by Gossip Girls, Fox was also on hand for the Spike TV Guys' Choice Awards on Friday night.
While there, she happily accepted the "Next Big Thing" award during the ceremony – which airs on Sunday, June 22 at 10 PM ET/PT on Spike TV.