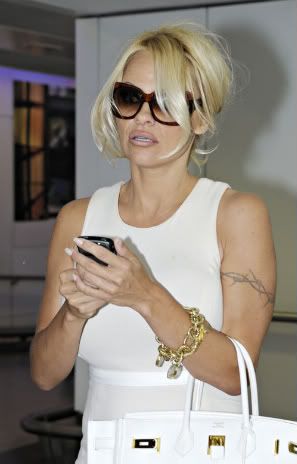 Wherever she goes, Pamela Anderson always seems to be the center of attention. And when she touched down in London earlier today, there were plenty of fans waiting to greet her.
The Baywatch babe looked chic in a sheer white tank-style dress with a pair of beige heels and her hair in a half-up-half-down style.
Over the weekend, Pammie added a little sex appeal to a Grand Prix party at a Montreal, Canada nightclub, showing up and showing off her natural (or artificial) assets in a skimpy white robe-looking dress.
And in charity news, it seems Miss Anderson has decided to put her 2000 Dodge Viper on the auction block (and donating the money to PETA) at the Planet Hollywood Resort and Casino in Las Vegas during Julien's Auctions' Summer Entertainment Sale of Hollywood memorabilia scheduled for June 21st and 22nd.
It's quite a donation, but Pam says it's well worth it. She told press, "I've been working with PETA for 15 years. They're kind of my ethical advisers. With them, I see actual results."