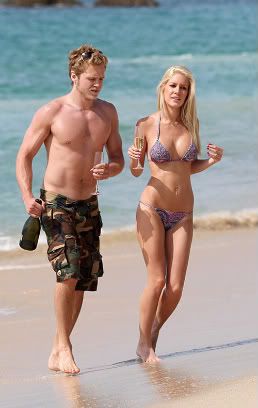 As previously reported by the Gossip Girls, Heidi Montag says she's all set to marry Spencer Pratt, per a romantic make-or-break getaway to Mexico. And now we're bringing you some sexy pictures from their trip.
Back in April, the peroxide pair decided it was time to either get serious about their marriage prospects or go their separate ways. And a trip to Los Cabos seems to have cemented these two even closer together.
Heidi donned some sexy swimwear as she basked in the warm Mexican sun. She looked playful frolicking on the beach with her manager/fiancé. They were also spotted smooching on the balcony of their swanky Palmilla suite as they sipped champagne.
One night at sunset, Spencer treated his lady to a piggyback ride as they walked along the shore, taking in the beautiful scenery and enjoying each other's company.