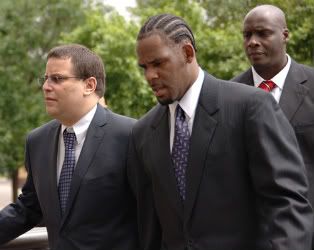 It's one of the biggest court cases to hit the R&B music world in quite awhile, and R. Kelly's child pornography trial is almost over.
In a massive development in the case, the "World's Greatest" singer announced to the judge that he would decline to take the stand, saying simply, "I decided not to testify."
Perhaps it's because there's nothing left to say… after all, Cook County Judge Vincent Gaughan made it clear that jurors will be able to review the sex tape once they begin deliberations.
Yesterday, Kelly's legal team abruptly rested their case, leaving it up to the prosecution to call two rebuttal witnesses prior to Thursday's closing arguments.