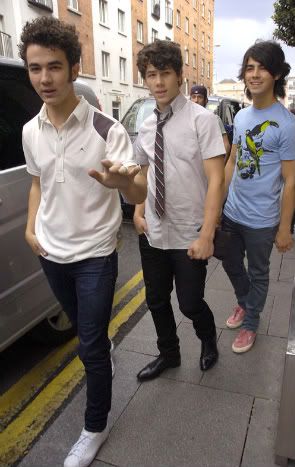 Following a stop in London, the Jonas Brothers have moved themselves along to Ireland - where they were spotted outside of their Dublin hotel on Friday (June 6).
The musical brotherly trio of Joe, Kevin and Nick performed a show later in the evening at RDS Simmondscourt - now heading off for a gig in Denmark on Saturday.
Meanwhile, it seems that the ladies love the Jonas Brothers overseas as much as they do in the States - but Joe Jonas tells that he has a bit of trouble with the English accents.
When asked whether he prefers English or American girls, Joe responded: "The accents are great here. I was walking down the street and I saw a pretty girl, so I thought I'd say 'hey'. They said something so cool, it was like 'hiyo' or 'heya' or something. That's like a karate noise, I thought I was going to be hit in the face."