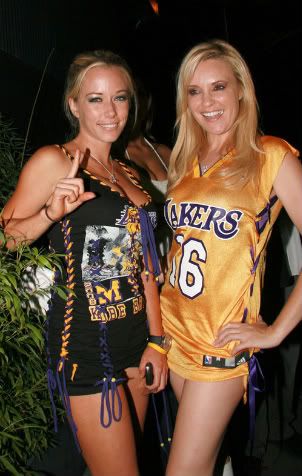 Playboy playmate and "Girls Next Door" star Kendra Wilkinson was out on the town on Tuesday night (June 10) - celebrating her 23rd birthday at Coco De Ville in West Hollywood.
Decked out in LA Lakers gear, the blonde beauty was treated to an evening of drinking and dancing with friends including fellow playmate Bridget Marquandt, Evan Ross and DJ Mams Taylor.
And speaking of birthdays, Kendra recently told Us Weekly that she and Hugh Hefner's other two "top girls" made the Playboy mogul reproductions of their body parts in chocolate for his special day back in April.
She explained: "I molded my ass, so I could call it 'chocolate starfish'. It was white chocolate, and I put a dark chocolate little thing right in the middle."