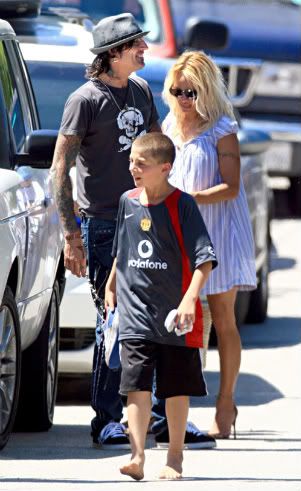 With their on-again, off-again love affair back on, Tommy Lee and his ex-wife, Pamela Anderson, were spotted out on Thursday enjoying one another's company.
Wearing a babydoll dress with spiked heels, Pammie and her Motley Crue drummer beau first dropped their kids off at school - later attending an end of year school party with their two boys
Speaking with Rolling Stone, Tommy recently confirmed reports of a reunion during a Rolling Stone interview, telling: "Pamela and the kids have moved in with me. It's awesome, man. It's definitely working. You can tell on the kids' faces—they're happy when we're together."
And though the two seem to be smitten once more, the reunion doesn't thrill the thrice divorced Baywatch babe's mother.
"Lately my mother has said, 'I wish you were gay, considering your choice of men,' " Anderson joked.