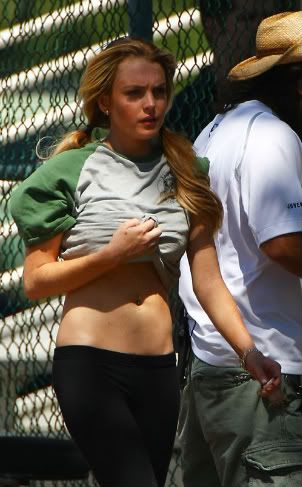 Showing off her toned tummy, Lindsay Lohan was back on the set of her new movie "Labor Pains" on Thursday (June 19).
Decked out in baseball gear, the Mean Girls starlet took to the diamond of a North Hollywood park - playfully pulling her shirt up while filming a few scenes. In between takes, LiLo mozied about - texting, having her photo taken, and drinking a bottled water through a straw.
In related news, it appears that Miss Lohan's fit physique has caught the eye of one of her many past suitors, as tabloid reports out of London claim that Calum Best has been sending frequent text messages to the recovering actress in an attempt to rekindle their romance.
An insider told the Mirror: "Calum can't wait to see Linds - whenever they meet they always seem to get it on. Lindsay couldn't get enough of his bedroom antics [in the past]."