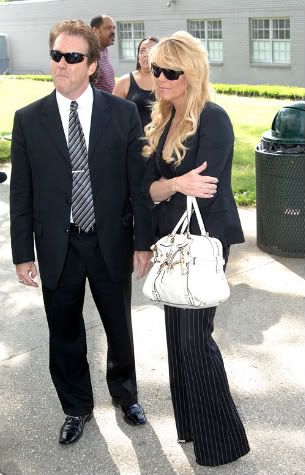 Just when we thought everything in the Lohan clan was settling down, Dina and Michael have returned to a Long Island courtroom today to battle over custody arrangements.
While LiLo (21) and her 19-year-old brother Michael Jr. are excluded from the situation due to their age, Daddy Lohan has filed a complaint that his ex-wife hasn't been keeping up her end of the visitation bargain with 14-year-old Ali and 11-year-old Dakota.
Essentially, Michael's attorney John DiMascio Jr. has claimed that Dina hasn't allowed his client to visit the two younger children according to the agreement reached previously by the court.
Family Court Judge Stacy Bennett scheduled the next hearing to be July 14th, and sounded as if the situation was hopeful. "I am encouraged to hear that the parties and counsel are working at ways to repair the relationship between the children and the father," she said, noting that she was also pleased that the two sides were working together to try and iron out the wrinkles