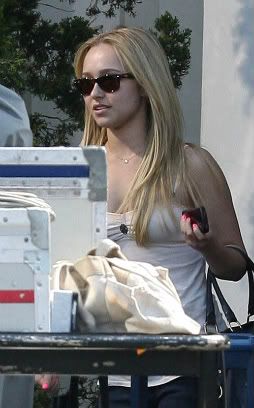 Between her home in Los Angeles and her latest gig "I Love You Beth Cooper" in Vancouver, British Columbia, Hayden Panettiere has been racking up some serious frequent flyer miles.
And yesterday the "Save the Whales…Again" hottie was spotted prepping to depart from LAX International Airport once again.
Miss Panettiere looked comfy and travel-ready in a white spaghetti strap tank top with a pair of jeans and some gladiator-style sandals as she made her way into the terminal.
Earlier in the day, Hayden made her rounds in Los Angeles, hitting the set of her hit show "Heroes" before making a pre-airport stop at Saks Fifth Avenue for a bit of shopping.