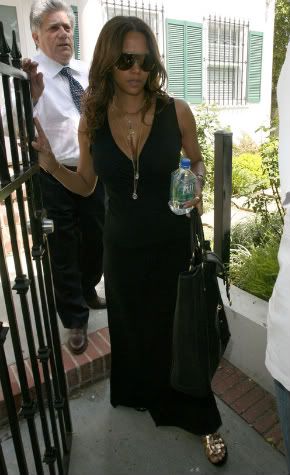 Sparking rumors of a possible prenuptial agreement, Halle Berry was spotted yesterday visiting her lawyer in Los Angeles, California.
And the "Monster's Ball" babe was looking very business-minded, sporting a serious demeanor along with a fabulous black v-neck blouse with a matching black ankle-length skirt and some strappy sandals
Berry has been outspoken about her lack of desire to get married again (after her ex-husband Eric Benet had multiple affairs), but perhaps baby Nahla has changed all of that.
Speaking of Nahla, Halle recently told press that her newfound motherhood will hopefully boost her chances of getting more serious, Oscar-worthy roles, now that her sex symbol status has been diminished.
She said, "I feel having a baby will open up a whole new world for me. I think I'll actually find better roles, because I've gotten past being the ingenue and sex symbol."