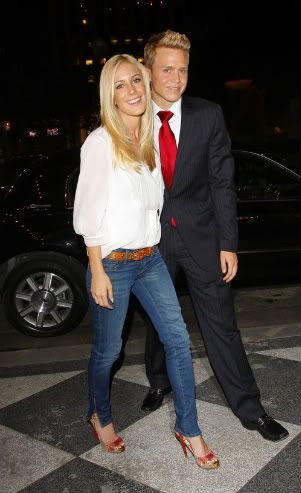 Maintaining a bicoastal celebrity status isn't easy, but then again when you're as dedicated to self-promotion as Heidi Montag and Spencer Pratt, it's all part of the game.
The peroxide princess was spotted grabbing some cash from an ATM yesterday (she withdrew $60) as the paparazzi swarmed around her. Not to worry, though…she was looking fine in a white jacket with a pair of designer jeans and heels.
Miss Montag also stopped by the Ed Sullivan Theatre for an appearance on The Late Show with David Letterman. And afterwards, this girl was hungry.
But never fear- Spencer, sporting a gallant dark pinstripe suit with a bold red tie, treated his future wife to a romantic dinner out at the exclusive Waverly Inn.