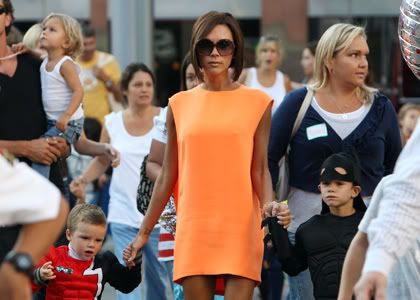 When your parents are David and Victoria Beckham, everything gets upgraded to the best of the best- and that includes birthday parties.
And yesterday Romeo James Beckham celebrated his sixth birthday (which was actually on Monday, September 1st) with the help of some of mom and dad's celebrity friends.
Stars like Heidi Klum, Gavin Rossdale, and Geri Halliwell showed up at the Universal City Walk along with Gavin's 2-year-old son Kingston and Geri's 2-year-old daughter Bluebell.
The Beckham boys were all about the superhero motif, with Romeo arriving donned in full Batman attire, while his 3-year-old brother Cruz opted for the Power Ranger costume.
Even Klum's 2-year-old son Henry dressed for the occasion, sporting a Buzz Lightyear getup while her daughter Leni seemed to prefer a princess outfit.