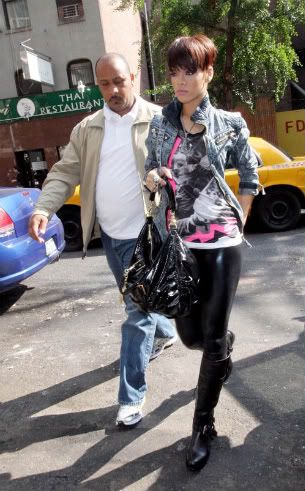 As previously reported by the Gossip Girls, Rihanna is in the Big Apple for a string of publicity appearances. And following her stop at MTV's Total Request Live yesterday, she was off to yet another gig.
The "Umbrella" songstress was spotted arriving at SkyBar for a photo shoot, looking fit and fine in a circa-1984 denim jacket overtop a screenprinted white tank top with a pair of leather pants and knee-high boots
And after a super long day of television appearances and constant posing for the camera the Good Girl Gone Bad called it a night, heading back to her Midtown Manhattan hotel.
In related news, Rihanna will be competing in the 2008 Teen Choice Awards in three categories, including Choice Music: Single, Choice Music: Female Artist, and Choice Music: R&B Artist.