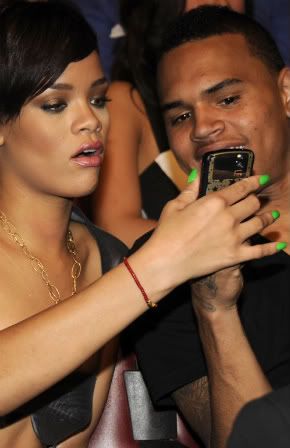 Looking the happy couple, Rihanna and Chris Brown sat side-by-side at the 2008 MTV Movie Awards at the Gibson Amphitheatre in Universal City, California on Sunday (June 1).
Prior to the start of the show, Chris strutted his stuff along the gold carpet while his Umbrella singing beauty passed up on the opportunity - saving her poses for inside the amphitheatre, where the duo sat next to Paris Hilton and Benji Madden.
In related news, reports tell that Rihanna, 20, and Chris, 19, have recently treated each other to expensive diamond necklaces worth $200,000 in an expression of their love for one another.
The twosome picked up the expensive gifts from jeweler Jason Arasheben's exclusive Beverly Hills store, with Arasheben telling the News of the World: "Chris went for the heart theme while Rihanna chose a diamond-encrusted cross to give to him."