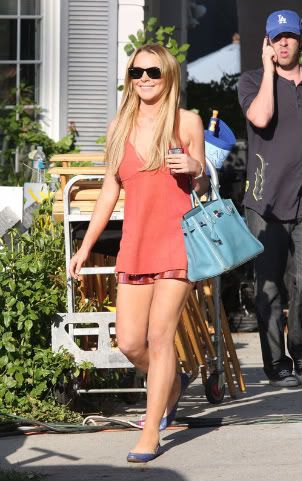 In her latest attempt to revive her acting career, Lindsay Lohan was spotted back on the set of her current gig "Labor Pains" looking as happy as could be.
The "Mean Girls" starlet enjoyed the beautiful weather, sporting a salmon-colored hippie-style top with a pair of striped shorts and blue flats
Meanwhile, for her new line of leggings, LiLo has chosen a very notable number - "6126" named after Marilyn Monroe's birthday (earlier this year Lindsay did a nude spread for New York Magazine emulating a Monroe photo shoot).
The leggings will be sold at one of Lohan's favorite boutiques, Fred Segal, coming this August. Her line will include footless tights, cashmere leg warmers, and ankle gloves ni a range of patterns and fabrics.