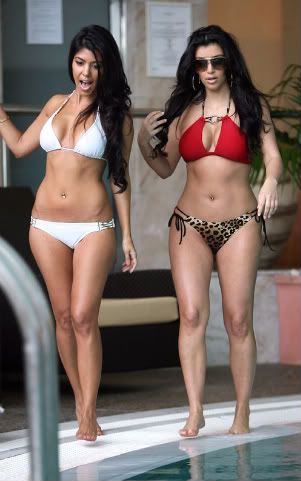 They've been busily promoting their hit reality show in Monte Carlo, Monaco over the past few days, but that doesn't mean that Kim Kardashian and sister Kourtney have gone without a little vacation-like relaxation.
Prior to their appearance at last night's Golden Nymph Awards, the "Keeping Up with the Kardashian's" co-star siblings were spotted having fun in the sun aboard a yacht - with Kim popping a bottle of champagne for her big sis.
The reality star sweethearts also made time for a dip in the pool at the Hotel Hermitage - showing off their fine forms as Kim wore a sexy fire engine red two-piece bikini while Kourtney chose a white two-piece swimsuit.
According to Kim's personal blog, the day wasn't all about waterside relaxation, as the pair also had brunch with Extra correspondent Terry Seymour, eating and filming at Cafe de Paris.