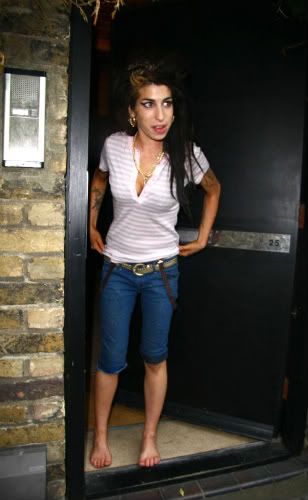 Most celebrities have massive amounts of security between themselves and the rest of the world. But Amy Winehouse has only her front door.
And in the latest chapter of "A Fan Shows Up On Amy Winehouse's Doorstep," a young Canadian girl made the trek to the "Rehab" singer's Camden London home to meet her idol.
Overcome by the excitement and emotion of the moment, the girl broke down in tears, profusely thanking the "I'm No Good" songstress for taking the time to meet her.
On the other end of the spectrum, Winehouse's recent $2 million gig in Russia was almost cancelled after she showed up blitzed out of her mind. Daria Zhukova, the girlfriend of Russian billionaire Roman Abramovich, invited Amy to sing at an exclusive engagement at The Garage gallery in Moscow for a select group of art enthusiasts.
However when the troubled singer arrived for her one-hour performance she was in such an incoherent state, they discussed finding a last-minute replacement for her.
In the eleventh hour, Amy's people were able to pull her together enough for her to take the stage. An insider told press, "I heard that her singing was a little sloppy. But she still put on a terrific show."